Posted in
B-Litter
on January 20th, 2007 by Pete
On the Friday the 19th, we completed the second breeding by surgical AI. After seeing how easy the eTCI went on Thursday, I was seriously thinking of telling Dr. Rickard to repeat the same procedure on Friday. However, she previously mentioned that one advantage of the Surgical AI was her ability to visually inspect the uterine body during the procedure. I believe we made the right decision, in this case, because Dr. Rickard found some scar tissue inside and thickening of the right uterine horn, See Image below.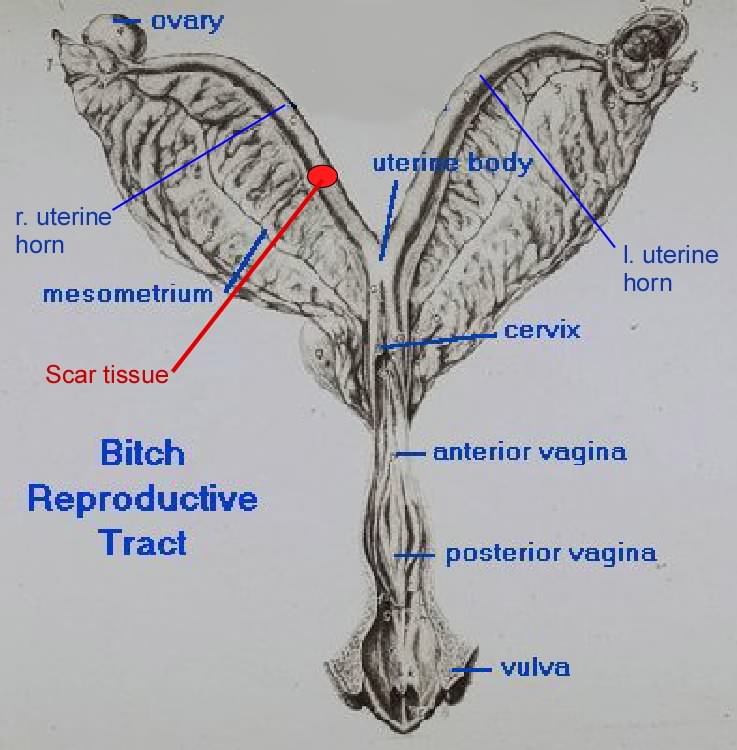 The scar tissue appears to be in the area where the C-Section was performed last April, when the first litter was whelped. Dr. Rickard showed me a picture taken during the procedure with the assistant's cell phone camera. The scar tissue is preventing normal flow between the left and right horns. It is very unlikely that any semen was able to get into the right uterine during the eTCI performed on Thursday. The overall appearance of the r. uterine is also thicker compared to the l. uterine, which appear normal and healthy. She was only able to inject a small amount of semen, ~.5 ml, into the right side because the uterine would not distend. The ovary on the right appear normal, so it is possible that ovulation has occured.
So what does this mean? Here are a few possibilities:
1) No eggs develop in the r. uterine due to the scarring or thickening, but some develop in the left horn.
2) Eggs may be fertilized, attach to the r. uterine and develop, but Tink needs a c-section to whelp.
3) Same as 2, but the r. uterine expands and whelping occurs naturally.
We really won't know anything more until the ultrasound on Feb 15th. As Dr. Rickard said, "We have to let nature take its course". We've done everything humanly possible.
One final comment, I am very happy with Dr. Rickard. She never fails to answer my questions, her technique is excellent, and her manner is very professional. The incision from the surgical AI is hardly noticeable and Tink is doing very well. I can fully recommend her to anyone else going through this same process.
…P