Well it's been a while since my last post and alot has happened. The last few months has been frantic getting ready to breed Wendy. I evaluated many stud dogs and narrowed my search down to two from several handsome and accomplished dogs. Special thanks to Sussie Karlström from Kennel Almanza for recommending Sune and to Ulla for recommending Bamse from Kennel Gunways. More about Bamse in later BLOG postings.
In July, I contacted Tomas Casserborg, in Sweden, about a breeding with his Flat-Coat, CH Almanza Wild at Heart, "Sune".  He agreed to the breeding, but summer in Sweden is vacation time for most and Tomas's girl friend was expecting their first child, so other priorities took precedence. By first of September, it was time to press forward in earnest. I had estimated Wendy's next heat would come after labor day and I wasn't sure if the collection would make it in time. On the 14th, Tomas informed me they had located a bitch in season to stimulate Sune and the collection was planned for the 15th. On Sept 18th, Wendy went into heat. This was going to be close. We starting measuring Progesterone levels immediately, See Graph below, to see how the cycle was progressing.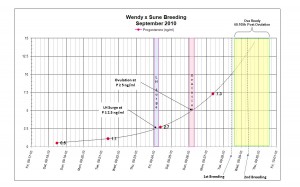 I had previously decided to work with Dr. Robert Dove of the Companion Animal Clinic in Gainesville, VA for this breeding. Dr. Dove has a great reputation as a reproductive vet in our area. Based on Wendy's progesterone readings, the Doc and I agreed that the evening of Tuesday the 28th and Wednesday the 29th would be the best times for the AI with frozen semen. Only the collection was still in Sweden!
The shipment left Uppsala, by FedEx, on Monday afternoon Sept 27 and made it to Newark Airport by Tuesday morning EDT.  Everything was moving along great.  Then a clearance delay threaten to hold everything up. I immediately got on the phone with FedEx to help resolve the paper work issue. I managed to provide them the missing information, but then was told the shipment would have to wait until a Custom's Agents arrived that evening. I found a very helpful supervisor, at FedEx, that managed to find an agent in the morning to release the package. By then however, we had missed the daily shuttle flight from Newark to Dulles. Again, I pleaded with FedEx to expedite the shipment and they agreed to have a courier drive it to Gainesville, VA directly. Wow, I'll never ship with anyone else again. They estimated the shipment would arrive about 6pm that evening and by 6:15 the driver was dropping off the container at the vets office. Wendy and I were there waiting.  Thirty minutes later, we were done with the first breeding and on our way home.
We returned the next day for the second breeding and now we wait until Oct 25 for the Ultrasound exam to determine is Wendy is pregnant.
…P